Main content starts here, tab to start navigating
My Bay Leaf Experience
A blog by Dr. Sanjay Singh, Board of Directors, Pack Health, Birmingham, AL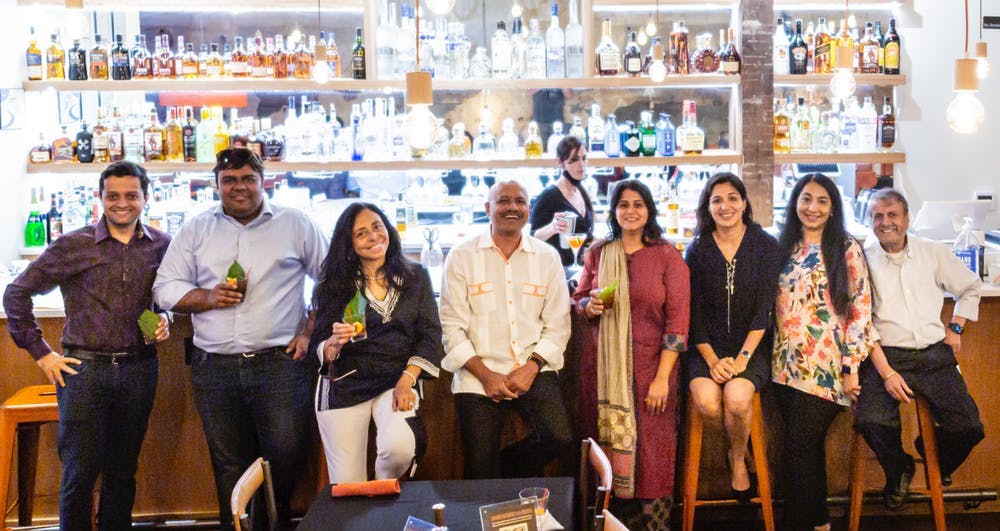 Dr. Sanjay Singh and Dora Singh with The Spice Library group.
Living in a relatively small-town USA has its challenges, particularly when the city is confused with your famous Namesake. So once my luggage, intended for Athens, GA (abbreviation for the State of Georgia in the US and not the Country of Georgia in the former Soviet Republic) was shipped by Alitalia to Athens, GR (Abbreviation for the Country of Greece). On another occasion, my friend posted a letter from England when I was living in Lafayette, LA (Abbreviation for Louisiana) but instead she send it to Los Angeles (Thinking that LA was the abbreviation for Los Angeles). But the best is my current situation – the city of Birmingham. I cannot recount how often I have received honorary citizenship of UK, mistaking Birmingham, USA for Birmingham, UK. Imagine the plight of the young couple who booked a ticket to Birmingham, USA while trying to catch a flight from Birmingham, UK to Las Vegas, NV. True Story – check it here. My favorite though is a party trick – ask those present to name the various Calcutta, New Delhi, Madras, and Bombay – in the US!! BTW – these cities were named NOT by Indian Americans but by immigrants from UK as they moved to USA centuries ago. OK, enough of crash course in Geography Bee.
However, small towns have one significant advantage above the chaos and distractions of big city – i.e., peace of mind as you experiment with something new. If you have the talent and resources, it is much easier to experiment and create a world class solution than bigger cities, which are needed for scale and mass adoption. I can give you numerous examples from WMT (Fayetteville, AK) to Boeing/MSFT (Seattle, WA – relatively small then when these companies started there). Experimentation with all aspects of food chain has similar roots in isolation and experimentation – to create something unique before scaling up. Hmmm, Chick-Fil-A (Hapeville, GA -1946), KFC (Corbin, KY – 1952), Burger King (Jacksonville, FL – 1954), and McDonalds (San Bernardino, CA – 1955). Similarly, Panda Express (Pasadena, CA – 1973), PF Changs (Scottsdale, AZ – 1993), Chipotle (Denver, CO – 1993) or finally Starbucks (Seattle, WA – 1971). The point being that none of these chains started in the Top 20 cities by population in the US with sole exception of Denver (#19) and Seattle (#18). OK this is selective data, but you get my point.
Indians (i.e., from India) first emigrated to the US in early 19th century, with about a few thousand Fearless Sikhs establishing homestead in California. And with them started the import of Indian culture, particularly food (one reason the preponderance of Indian restaurants in North America is owned by Punjabis). One of the earliest being Taj Mahal Hindu Restaurant in NYC – specializing in Hindu and Persian Food (the latter of big significance – Persia has an OUTSIZED influence on Indian Culture/food, particularly in the Northern Part). For the next 75 years, while Indian food continued to expand across the North American Continent (again, thanks to the Sikhs great many good ones in Canada), the expansion was slow, painful, bland, and often something just to satiate the Ganesha Belly than the taste buds. What held back the growth and popularity of the category can be traced down to 3 very simple facts. First, availability of native ingredients, particularly the spices the way it is mixed in India. Second, availability of vegetables, pulses, and other peculiar ingredients. And finally, Chefs and owners who were interested in exploring the possibilities than feeding the masses. You add the preponderance of hot chili and curry mix, with the dollop of turmeric yellow curry, and damp smell in the restaurants that left your business clothes reeking off fresh of the boat smell – and you really wanted to brave the gauntlet to go eat in one of them run of the strip-mill joints.
Do not get me wrong, over the years I have thoroughly nourished by student stipend soul with endless run to the buffet line and frequented truly amazing ethnic combinations like Vermillion (Indo/Brazilian with branches in Chicago and NYC). But I am yet to visit ONE Indian restaurant in the US where either the cream infused variation of curries (same base for chicken, fish, veggies), gut burning rancid masala, nonexistent front of house staff, size of the restaurant, unimaginative dessert menu, and god forbid an interesting drink menu (if someone offers me ONE MORE glass of mango lassi!) - has not depressed my enthusiasm for a truly enjoyable evening for hosting a group of friends and strangers to introduce them to the mysteries of India. People rave about Rasika (D.C.) and others in the same category in the major US cities – and while they are outstanding – 2 shortcomings are instantly obvious. First, almost a non-existent dessert menu and second, lack of true regional cuisines from India. Folks, what I am looking for is VERY DIFFICULT to pull off in an Indian restaurant – variety and depth across the categories at native level, while paying homage to global influence on Indian cuisine. At the same time fine dining (but not stuffy), modern décor with desi touch, and desire to constantly experiment with the right temperature scale (spice wise) for both the American and Indian esophagus. I am also a difficult guest to please, because irrespective of the restaurant – I always like to fiddle with my dish. If the kitchen is NOT willing to accept my request for modification, then invariably that is my LAST.
Unfortunately, food is no longer just about veg/non-veg and peanut/gluten/dairy free. You add spice, oil, salt, sugar, temperature, ingredients, and list becomes endless. It is a sign of mature kitchen to take and incorporate suggestions from guests, and not an affront to their culinary expertise and end-product.
When Dora and I moved to Birmingham, there was a hole in the wall restaurant on Green Springs – masquerading as an Indian restaurant. We visited few times a month at least to be reminded of the smell of spice rather than the taste of the goat curry! But soon after our arrival Taj India opened on Southside. The Singh and Judge families – over the years have become very close friends and have attended to all my whims about food, menu, meeting room, catering, late night meetings, etc. My love affair with Taj is around couple of dishes cooked to my childhood memories of Anda Tarka (egg with black lentil) with Roti, Mirch (Green Chilli), and Payaz (Round Cut Onions) from the Dhaba in Ballygunge Place. There is no way one can replace the olfactory memories – you are instantly transported to a time/place continuum impossible otherwise.
Fifteen years later The Kotians came along. If you are from Birmingham, or been my guest, well you know all about Silver Coin and the infectious charm of KK (a.k.a. Kishore), Tito, Sheila, and Dass (Mr. Chef). They have become a fixture for many families – an integral part of graduation, engagements, weddings, house parties, community celebration, corporate parties. Dora and I have hosted many guests over the past decade at Silver Coin – from students to visiting dignitaries. Amazing food and hospitality. And BTW – I cannot even begin to tell you how many deals I have closed at the Coin!! Now they are extending their outside seating option and will continue to provide a great entry into home cooked Indian meals for generations to come.
1982 was a watershed year for Birmingham. Frank Stitt opened Highlands Bar and Grill – starting the farm to table Southern Food movement. Over the next 4 decades, Frank and Pardis, systematically and with a Southern Touch, not only put Birmingham on the Culinary map of the world (in addition to Highlands, they opened Chez Fon-Fon, Bottega, and Bottega Café), but also trained a legion of Chefs and entrepreneurs who have continued to amaze citizens and guests of Birmingham with culinary delight. The food world finally took notice and awarded Highlands Bar and Grill the James Beard Award for the most outstanding restaurant in the US for 2018 – a first for any restaurant outside a MAJOR city in the US. In addition to recognizing Frank and Pardis, the foundation also awarded their longtime collaborator and colleague Dolester Milesthe best pastry Chef in the country.
The result is that if you are going to open a fine dining restaurant, and that too within a block of Highlands Bar and Grill – the Bar is really set High! Besides inspiration, there is also a lot of perspiration that goes into creating a world class dining experience and building a sustainable business in the process. The current owners and executive Chef of Bay Leaf certainly spend their time thinking about the legacy and the challenges in creating not only an outstanding restaurant but ambitiously the best Indian restaurant in the country. And only in a town like Birmingham this ambition does NOT seem audacious or arrogant but most certainly doable!! Frank and Pardis have set the path for many others to follow. Having experienced great meals around world, Indian (on all 7 continents!!) and otherwise, Dora and I are not much into the glitz of the restaurant or the gimmick of the menu – but authenticity of the dish, while being adventurous, artistic, historic, and exploratory at the same time. Acknowledging and incorporating 5,000+ continuous years of influence on ingredients and cooking is not for the faint hearted. As one of my major professors told me – Great Indian cuisine is like a Great 120-piece orchestra - you can listen to each instrument while enjoying the symphony. Bay Leaf is on that trajectory. Unfortunately, you cannot go there once to experience its splendor. Just the basic menu will take at least 7 to 10 visits to savor the variation across the sub-continent (and without historical and geographical context most of the experience is lost), and if Chef gets into the mood, each visit will be unique for he will make a few dishes NOT on the menu. They have great ambitions about bringing a panoply international cuisine to Birmingham and I will let you discover that in due time. With that prelude let me take you through our first dining experience at Bay Leaf.
Everyone, including yours truly, has few favs at Indian Restaurants. Most run the gamut of Chicken Tikka Masala, Saag Paneer, Dal Makhani, Baingan Bharta, Aloo Gobi, Chicken 65, Veggie Korma, Malai Kofta, Few tandoori items and yes Naan. All comfort food, and yes much needed to rest weary palates and soul after every trip. Unfortunately, the above is just a minuscule portion of the Indian cuisine. The menu at Bay Leaf takes you through a highly curated, but great journey over Modern India, exploring its colorful and spicy history. I write the following as much to soothe my soul, as to prepare y'all to venture beyond the basics!
Many of you have asked me what I would order from the menu. Before I get there, let me share something unique about an in-person experience at Bay Leaf. On entry, you are greeted by a very beautiful mural depicting the diversity of India - Regions, religion, culture, art, clothes, and people. This panorama is then reflected in the menus (both food and drink) created by Exec Chef and Owners. I can spend hours exploring the relationship between the mural and the menus. Thanks to the last 5 trips to India – we have now travelled to all the major parts of the country and tasted the local cuisine in its full authenticity including the environment. For e.g., you cannot talk about Dhaba food without eating in a roadside Dhaba, the Chettinad Curry without sampling in the homes of Chettiyars, or Fish Curry without polishing it off with Rosogolla in Bengali household. So, it is fun tying it all back together in Birmingham, Alabama!
As Indophiles know – India is a very complex country – a mashup of geography and cultures, like collapsing the Globe into a single country. Hence, the food is also varied and complex – with almost no semblance to any form of commonality between the cuisines from North/South/East/West/Central regions. You have some standard fare like Rice and a million combination of the traditional Dal and Roti/Naan. Adding a further twist – some of the regional fares are TASTIER in another region – as the original dish was enhanced by local spices and cooking style. And this form of improvisation continues throughout the country. While the home base is strong – Indian Kitchens are very open to incorporating "FOREGIN" influences, which is on full display at Bay Leaf. Not an easy task to replicate this on a large scale in a restaurant – Bay Leaf has overcome this challenge by investing heavily in the Kitchen Staff who are trained in these regional cuisines – each requires a long preparation time.
There are several dishes best enjoyed fresh from the grille. While I do not eat meat, I had most of their fish and seafood dishes. So, during our first visit, we sampled the following – all unique in composition, taste, and presentation. I have added a small note to highlight stories behind the dishes.
On a side, but slightly debated note, most Indians will agree that the only Indian City where you can taste all these items as close to authentic is my hometown of Calcutta. Other major metropolitans, while they have a great culinary traditions, only the Bengalis (i.e., Indians who from the state of West Bengal) really enjoy native dishes in full glory as they are more welcoming to outside ideas than others. Very few things get Bengalis more excited than food and travel – so much so that in India there is Bengali season for traveling – generally in Fall where for a month looks like the entire state is meandering through India and that perhaps is the reason why they yearn for dishes from their trips when they come back to Calcutta/Bengal. Travel opens your mind and taste buds.
So here was our Tasting Menu…
Appetizers
· Gol Gappa Shots– homage to the "chhats – small snacks – in Hindi connotates spicy/tangy snacks" from the Chowpatty and Juhu Beaches of Mumbai. Over the years – this form of CHHAT HOUSE food has become very famous all over India. From sedate to spicy. Mostly you buy from Street Vendors. Now many restaurants in both India and Abroad only sell chhat food. You generally make a meal out of these snacks. There are many such restaurants in Atlanta including Chai Pani. In modern India – folks infuse Vodka in the spicy water that you put inside the Gol Gappas. Made famous by Housewives of Delhi as they are spending Sunday afternoons at Kitty Parties!!!
· Karar Bhindi: Okra is omnipresent in traditional Indian kitchens. From gravy to fried. This dish combines 2 of India's famous appetizers – fried vegetables and Pappad. At Bay Leaf the Okra is thinly sliced, lightly battered with an aromatic combination of spices and quick/deep fried. However, it is served in a Crunchy Pappad shaped in a bowl that you can eat as well. Similar to a Nacho Bowl in a Mexican Restaurant!! Karar means STRONG which here means deep fried and tongue tingling spicy.
· Crab Lollipop(accompanied by a very special sauce made by the Chef): Crab is mainly popular in coastal towns. We eat it in many forms, but the style from the Western Part of India is greatly favored. Whole crabs in a very deep/spicy curry. What Chef has recreated here with his special Chutney reflects Oriental fast food. Simply amazing. It was so tasty I almost made a meal out of it!!
· Tandoori Jhinga(Shrimp): Traditionally Jhinga refers to the TINIEST form of shrimp - very popular snack along with your Whiskey Drinks!! The whole shrimp (including the scales) are lightly marinated and deep fried in Mustard Oil. Crunchy and Tasty. In the modern adaptation – these shrimps are your traditional medium sized, marinated and grilled in the Tandoor oven. Served with House Slaw – again it would have been a meal for me if Dora had not taken away the plate!!
· Amritsari Machhli(North Indian Style): Talking about Amritsar (in Punjab) – you think about Tandoori food i.e., grilled meat. In India, one will rarely associate Punjab with Fish. However, the state is made of 5 Rivers (and hence the name Pun = 5; Jab = Land. In this case the Land of Five Rivers – Jhelum, Beas, Sutlej, Chenab, Ravi) and their fish makes for a very tasty snack. Fillets battered and deep fried with mild spice. With the right chutneys it will rival the fish cutlets and fish chops (British East India influence) of Calcutta. Over the years, I have acquired quite a liking, when served with light salad (onions, cucumbers, tomatoes, and few strands of lettuce – sprinkled with vinegar) and goes well if you are having Kingfisher beer. Talking about Punjab, my best friend growing up was from Punjab and ate many weekly meals at his home and Dhaba, and through him/family introduced to all the delicacies of Punjab, including Langars at Gurdwara. All-time favorite – Anda (egg tarka), with a bit thickish roti (with Ghee), and whole onions (cut in 4 pieces) and green chili. I could give up the finest dish at the best restaurant for this one experience from Calcutta.
· Tangra Chilli Chikcen: Mao Zedong's Cultural Revolution – forced millions of Chinese to migrate through Asia, including a large number who settled in Calcutta. They took up trade in leather goods, among others and settled in large number in Tangra on the outskirts of Calcutta. Over the years, they started incorporating many Indian spices and ingredients, including the style of cooking, leading to an entire genre of food – Indo-Chinese (large number of them in Atlanta – like Bamboo Garden, Chinese Dhaba, etc.). Also, many traditional Indian restaurants will also have a few Indo Chinese dish the menu (e.g., Gobi Manchurian, Baby Corn). Over the years these restaurants have migrated across India, and along with Indian immigrants around the world. Both Indians and Chinese will swear that this combination is better than any Chinese food you will eat – I can vouch for that!!
Main Dish
· Shrimp Moilee (from the coasts of Kerala/Goa - Portuguese Influence): There are parts of India where locals still speak Dutch, French and Portuguese – for these European powers also invaded India and established colonies. Unlike the Brits, they stayed on the coastline. One such bohemian place is Goa – where the Portuguese marched post establishment of Bombay (Bom = Good, Bay = Bay – i.e., for sailing; currently called Mumbai). As you can imagine over the centuries, Goa has developed its own form of cuisine – hybrid of Indian spices (on the Spice Route), Portuguese style of cooking particularly seafood, and variations of coconut milk. The same dish from Kerala would be spicier thanks to its green chilies in the curry. Chef made it mild for us, a-la-Goanese style.
· Kasundi Machh (Fish).This is a specialty of Bengal, particularly emerging from the countryside. Kasundi is special pungent Mustard paste, and its combination with Hilsa fish is a delicacy that will water any palate just with smell (particularly if cooked in banana leaf). Best Eaten with plain rice. Chef knew I was coming – so he sourced all the ingredients to make a true delicacy that evoked as many memories of childhood as you can have, while enveloped in an explosion of tastes and fragrance. I could hardly breathe due, thanks to heart helping of the appetizers, but the preparation was amazing. We had a sumptuous portion, so I shared a small piece with all – and the verdict was that this was the highlight of the evening. Everything else was a close second.
Dora and friends had the following meat dishes – in addition to the above. I sampled the vegetarian options of Biryani, 2 types of Kofta (again Persian Influence, but Indianized as these deep friend balls are then soaked in various types of curries, generally mild).
· Beef Salli Botti: (Parsi Food – again Indianized version of Persian dish). Salli is Potato Sticks, and Botti is a cut of goat meat. The gravy is very rich (which is the case due to the heavy Mughal influence that developed over thousand+ years and as you travelled through Turkey you can easily trace back the concept of Rich Indian Gravy. When the Mughals settled in the Southern part of the India, they started adding even more hot spices, giving rise to the Mughal dishes from Hyderabad vs Mughal Dishes from Lucknow which is more traditional and closer to Persian style). So, there you go again – now we have Indian restaurants that serve Hyderabadi style of cooking vs traditional North Indian Style. This dish is Northern in Influence. They have another beef dish on menu – braised short ribs in a nod to the great BBQ tradition in the South. Bay Leaf is an exception that it serves Beef, which you will rarely find in Indian restaurants.
Tandoori Chicken (whole, small Cornish hen, stuffed with spices and then marinated. As per the guests - this was the standout among the general Kebab and Tandoor dishes). While Clay cooking originated from Persia, Tandoori style cooking took its own form in North India. Today the very word Tandoor evokes images of grilled meat in a Punjabi (i.e., North Indian) restaurant. If there is an Indian restaurant that serves meat, you will get Tandoori Chicken, Lamb, Fish, and NAAN.
· Goat Kolhapuri: There are as many ways of cooking Goat (or Ghost) in India as there are Indians. Ranges from mild and soft in Biryanis to hot and spicy (either Red Chilies in UP/Bihar or homemade curry powder in the South). But the love affair has not waned. Growing up, going to the Butcher shop with adults (in the city) or the Butcher coming to the home in the village – was always a highlight. However, I ate my last piece of meat 15 years ago, but still try to keep up with the carnivores around me. BTW in the mountain regions of the North, goat is replaced by lamb. However, the choicest cut is always the racks or the leg that can be chopped into smaller pieces. Meat eating has always been associated with the warrior class defending the honor of the kingdom. As such the army was occasionally rewarded by the rulers with Ghost Feast. In Maharashtra (Kolhapur is a city in the state of Maharashtra, where Maha = Great, Rashtra = Kingdom, famous for the fierce warrior king Chhatrapati Shivaji, a thorn in the side of the Mughals and other Indian rulers. He ended up building a substantial kingdom that became the Maratha Empire. Hot, humid, and arid climate turned the Maratha's into rugged warriors, their folklore romanticized by Bollywood movies like Bajirao Mastani (boy can I watch those dance numbers by Deepika and Priyanka all day long!!) The Kolhapuri style of cooking meat is similar – hot and spicy – to turn the warriors into a fierce machine, giving them enough energy to last for days in the battlefield. You can cook this dish either dry or a bit on the curry side. However, it will be aromatic nevertheless, with a full flavor of Indian spices including the unique mix of Kolhapur curry where you can certainly smell the fragrance of cinnamon sticks. Be ready for a full palate experience when you try such a rich curry!
· Parda Biryani – This is the FAMOUS Persian dish - very aromatic rice, with spices and Goat meat. At Bay Leaf the dish is cooked in a pot covered by Naan (what you see in Turkey where it is enclosed in a clay pot. Same concept but with a very heavy cover of Naan Bread on top. Both the rice and the meat is then steam cooked within the closed structure). This version was more spicy and evoked senses from Southern part of India – i.e., Hyderabad. BTW – we have both styles in Calcutta and every trip requires and obligatory pilgrimage to Arsalan. Dora has started cooking the veg version for me with eggs/potatoes at home!! Man what a delight.
· Malai Kofta: This one is made from Cottage Cheese and Potatoes, in rich tomato gravy. Mostly popular in Northern India, among the vegetarians.
· Shaam Savera: This is also Kofta but made from Spinach (Shaam = Evening) stuffed with Cottage Cheese (Savera = Morning). I am NOT a big fan of Paneer (Indian Cheese – btw fascinating to see how Cheese Looks around the world). I generally avoid Kofta/Paneer etc at home and restaurants, unless traveling through Europe or Latin America. But if you are a true Indian Vegetarian – you have an insatiable love affair with Paneer – either in Tikka Masala, Grilled, Kofta, Fried, or simply soaked in Spinach Masala.
· Dhaba Dal Fry: The word Dhaba evokes so many memories that I do not even know where to get started. Traditionally Dhabas are by the roadside catering to the Truckers and travelers. You sit outside on a cot weaved with ropes, eat, take a nap and move on. Some of the tastiest foods are to be found in Dhabas. Like all great Indian cuisines that originated on the Street (still true and great chefs visit Calcutta and other cities for the latest dish, almost all of which originates from the street vendors), Dhabas have now become established genre of restaurants in the cities, where the fancy citizens go to encounter the basic roadside fare but in the comfort of modern amenities like an A/C. Coast to coast, from the tiniest of the village to the fanciest of kitchens you will find Daal as the cornerstone of an Indian meal. While there are innumerable variations, the ones served in Dhabas will be a little watery, garnished with Panch Phoran (5 spices that are cooked in oil at high temperature and garnished on the lentil soup at the end – that is the Tadka that goes on the Daal!!). You can always see the burnt red chili and cumin seeds floating at the top, and just that view calms the anxiety of your weary bones from the jarring adventure of driving on Indian roads. While most Indian restaurants have the basic format of the Daal, Bay Leaf takes it to the Dhaba format, which is simply mouthwatering.
· Paratha/Naan – We had a whole basket of them. Over the years I have given up butter, ghee etc. – so these days when Dora and I order Naan, we generally get it plain and then toast it a bit in the toaster to give it a more firm texture (I think the best Naan we had was in Egypt with their version of Dahi and Bhabha ghanouj – at an outdoor Egyptian restaurant outside of Cairo. Never forgot the taste). Occasionally, we indulge and when I saw Laccha Paratha, could not stand the temptation. Well this form of paratha is made in multiple layers and while pan fried at it is being tossed and turned in a skillet at high temperature – it does have a decent helping of ghee/oil/butter. Everyone in my family will tell you the love affair I have with Paratha (Triangle in shape, as it gets slight burnt/charred, you apply oil around the edges. Just the smell will send you to heaven, let alone a mouthful with Aloo Bhujiya or dipped in sweet Bengali Dahi), with Masala Omelet on the side. Feels like I am getting ready for high school again.
Among their desserts – I tried the following. Both Heavenly, influenced by European style of dessert. You do not find either Tart or caramelization in Indian Dessert but the addition of both adds a unique flavor and taste that will leave you longing for more. Gulab Jamun (a little on the burnt side_ with Rabdi is simply fingerlickinglicious. Someone has to stop you from ordering another, which you should take home for the next day!!
· Gajar Halwa Tart(made from Carrot)
· Caramelized Gulab Jamun/Rabdi (the latter is condensed milk through boiling. Becomes sweet once the water evaporates)
I hope you visit Bay Leaf soon and finally enjoy the diversity of Indian cuisine in its authenticity!!! Reservations through OpenTable. Do not be hesitant to strike up a conversation with Manager Kiran – to learn more about the intricacies of the dishes. If Chef Pritam is free, he may come out to say hello as well!
Dr. Singh is a successful entrepreneur, philanthropist and writer from Birmingham, AL. Originally hailing from India, Dr. Singh is an avid international arts and culture connoisseur, and a thorough foodie at heart. A mentor to many youngsters in the local technology and start up scene, Dr. Singh was recently named to the most influential and powerful people in Birmingham, AL.