Main content starts here, tab to start navigating
280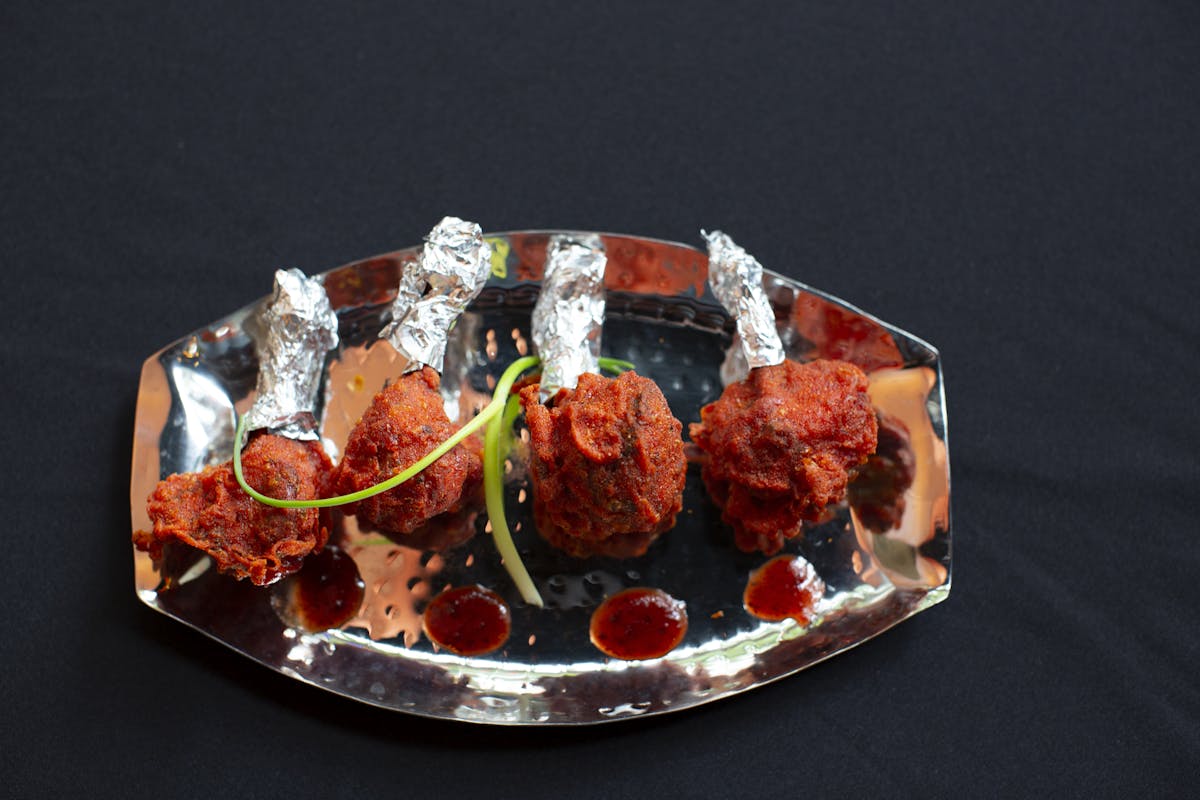 Highway 280
5426 Highway 280, Suite 14,
Birmingham, AL 35242
(205) 518-0208
bayleaf@thespicelibrary.com
Lunch:
Tue - Sun: 11 AM - 2:30 PM
Dinner:
Tue - Sun: 5 PM - 9:30 PM
Fri - Sat: 5 PM - 10 PM
*Closed Monday
Outdoor Patio Seating Available
Closed on Thanksgiving day and Christmas day.
New International Buffet:
We've got exciting news! Chef Z is introducing an international buffet at our Highway 280 location.
First of its kind in Alabama with over 40 items on offer.
Eclectic selections from Indian, Thai, Chinese, Mexican, Italian, Mediterranean, and American cuisines.
Only on Sundays 11:30 AM-2:30 PM at our Hwy 280 location only.
New menu each week.
Menus
Pizza
Special naan bread pizza
cheese pizza

$6

chicken tikka pizza

$7

paneer tikka pizza

$7
Dosa
indian crepes
plain dosa

$6

cheese dosa

$6

chocolate dosa

$6
Curry
served on a bed of rice or with naan bread
butter chicken

$6

butter paneer

$6

daal makhni

$6
Quesadillas
Indian take on the Mexican staple
cheese quesedillas

$6

chicken quesadillas

$7

paneer quesedillas

$7
Noodles
butter noodles

$6

chicken noodles

$7
Sweet
ice cream kulfi

$6

mango lassi

$5
Modern Indian Lunch Specials
Desi Burger and Fries

A juicy lamb burger from the clay oven using chef's signature naan bun. Served with curly fries.

$11

peanut free

Tandoori Shrimp and Grits

Zesty shrimp grilled in Indian clay oven served with southern cheesy grits

$12

peanut free

Masala Quesadillas

An Indian twist on the Mexican staple

Veggie $8

Chicken $10

Succulent Lamb $10

peanut free

Pav Ke Saath

Popular Indian street food meets American sloppy joe - a spicy mash served with soft buns

Mashed veggie $10

Keema (ground meat) $11

peanut free

Asparagus Purée Soup

$7

peanut free, gluten free

Mumbai Frankie Roll

Shredded tandoori protein, herbs, and cheese stuffed in egg coated grilled tortillas with select spices and onions

Chicken $9

Fish $9

Lamb $9

Paneer & Veggies $8

peanut free

From the Tandoor Grill

Succulent proteins grilled in Indian clay oven. Served with a side of fries or salad

Chicken Malai Kabab $12

Lamb Seekh Kabab $13

Paneer Tikka $12

Salmon Tikka $13

Masala Veggies $10

Chicken Tikka $12

peanut free

Mango & Avocado Salad

$8

peanut free, gluten free
Jaldi-Jaldi Lunch Thali
(Quickfire lunch plates with curry and protein of your choice. Served with lentil dal, veggie of the day, rice and naan bread)
Chicken $11

Lamb $12

Goat $12

Beef $12

Fish $12

Shrimp $12

Paneer $11

Tikka Masala

The Indian favorite curry. Rich and creamy tomato-based sauce with selected earthy spices

peanut free, gluten free

Korma

A mild mixture of spices combined with cashews and yogurt slow-cooked to perfection

peanut free, gluten free

Saag

Leafy puree sauce made of baby spinach, fenugreek, and other Indian greens

peanut free, gluten free

Kadhai

Delicious sweet and spicy curry with a combination of slow-cooked onions, peppers, and select spices

peanut free, gluten free

Vindaloo

Slow-braised SPICY Goan curry made of potatoes, chili, and vinegar sauce (lamb/goat/beef only)

spicy, peanut free, gluten free

Rogan Josh

Aromatic Kashmiri sauce made of red chilies, fennel seed, and yogurt. (lamb/goat/beef only)

peanut free, gluten free
Appetizers: From the Streets of India
Gol Gappa Shots

Semolina puffs filled with black garbanzo, potato, and mint cilantro water

Vodka spiked $9

Non spiked $8

dairy free, vegan

Samosa Duo

A timeless Indian snack with savory filling made of potatoes, onions, and peas

$6

dairy free, vegan

Indian Sloppy Joe (Paav Bhaji)

Popular Indian street food meets American sloppy joe; spicy mash served on the side with soft buns

Mashed veggie $10

Keema (lamb) $11

peanut free

Street Dosa

Indian rice and lentil crepes stuffed with mashed vegetables. Served with coconut chutney and lentil curry

$10

dairy free, peanut free, gluten free, vegan
Appetizers: Modern Indian Favorites
The Chutney Flight

Chef's special house chutney condiments. Served with thin and crisp papad flatbread

$4

gluten free

Karari Bhindi

Thin cut okra coated with gram four and flash-fried for crispness

$8

gluten free, vegan

Raspberry Paneer Tikka

Hardened cottage cheese marinated overnight in raspberry puree and Indian spices

$12

peanut free

Tangra Chilli

Marinated protein tossed in green pepper, soy sauce, and spring onions. From the streets of Tangra, Kolkata

Chicken $11

Paneer $11

spicy, peanut free

Tandoori Shrimps

Large gulf shrimps marinated in select spice blend and slow-grilled to perfection in Indian clay oven

$13

peanut free

Drums of Heaven

Chicken wings moulded into drumsticks and spice batter fried

$12

dairy free

Crab Lollypops

Battered and flash-fried snow crab claw clusters served with chef's special sauce

$13

peanut free
Soups & Salad
Asparagus Purée Soup

$7

peanut free, gluten free

Fresh Market Salad

Sliced, grilled chicken breast on a bed of fresh mixed greens, with mozzarella cheese and sliced almonds.

$7

peanut free

Hot and Sour Soup

Chicken $7

Paneer $7

peanut free, gluten free
Main Course: Hara Bhara
(Indian Vegetarian Delicacies)
Chana Masala

Chickpeas cooked in a spicy onion, tomato, masala gravy

$13

peanut free, gluten free, vegan

Malai Kofta

Popular vegetarian dish made of potato & paneer balls dunked in smooth, rich, & creamy gravy

$16

peanut free

Stuffed Okra

Pan-seared okra stuffed with masala mix

$13

dairy free, gluten free

Smoked Baingan Bharta

Fire-roasted eggplant mash cooked with spices

$13

peanut free

Daal Makhni

Slow-cooked black lentils seasoned with aromatic herbs

$12

peanut free, gluten free
Main Course: Biriyani
( Fragrant long-grained rice layered with meat or vegetables and spices. A subcontinental delicacy to behold and enjoy)
Lucknowi Dum Biriyani

Princely biriyani cooked the royal Awadhi style. (Chicken/Lamb/Fish/Paneer/Vegetables)

Chicken $16

Lamb $17

Goat $17

Fish $17

Paneer $16

Vegetable $15

peanut free

Burnt Chili Garlic Fried Rice

Spicy Indo-Chinese fried rice with robust aromas served best with manchurian.

Chicken $14

Lamb $15

Fish $15

Paneer $14

Vegetables $13

peanut free
Main Course: Bay Leaf Chef's Specials
(Chef's favorite recipes, served with a side of Basmati rice)
Bay Leaf Kebab Sizzler

Sizzling meat and seafood platter from the clay oven

$19

peanut free

Masala Lamb Chops

Perfectly spiced and grilled lamb chops

$20

peanut free, gluten free

Butter Chicken

The most popular Punjabi curry. Full of awesomeness

$16

gluten free

Tandoori Chicken

The classic Indian grilled cornish hen. A clay oven favorite!

$18

peanut free, gluten free

Chicken Malai Kabab

Melt-in-your-mouth chicken grilled in Indian clay oven

$16

peanut free, gluten free

Dhaba Chicken Curry

Spicy, hot, fragrant, and earthly. From the highways of India!

$16

dairy free, peanut free, gluten free

Shrimp Moilee

Coconut milk and aromatic spices - based curry from Southern India

$17

dairy free, peanut free, gluten free

Manchurian

Pairs well with burnt chili garlic fried rice.

Chicken $16

Paneer $16

Cauliflower $16

spicy, peanut free, gluten free
Main Course: Traditional Indian Curries
(Protein and curry of your choice. Served with basmati rice)
Chicken $15

Lamb $16

Goat $16

Beef $16

Fish $16

Shrimp $16

Paneer $15

Tikka Masala

The Indian favorite curry. Rich and creamy tomato-based sauce with selected earthy spices

peanut free, gluten free

Kadhai

Delicious sweet and spicy curry with a combination of slow-cooked onions, peppers, and select spices

dairy free, peanut free, gluten free

Korma

A mild mixture of spices combined with cashews and yogurt slow-cooked to perfection

peanut free, gluten free

Vindaloo

Slow-braised SPICY Goan curry made of potatoes, chili, and vinegar. (lamb/goat/beef only)

spicy, dairy free, peanut free, gluten free

Saag

Leafy puree sauce made of baby spinach, fenugreek, and other Indian greens

peanut free, gluten free

Rogan Josh

Aromatic Kashmiri sauce made of mild red chilies, fennel seed, and yogurt (lamb/goat/beef only)

peanut free, gluten free
Sides and Breads
Butter Naan

$4

peanut free

Laccha Parantha

$4

peanut free

Garlic Naan

$4

peanut free

Tandoori Roti

$4

peanut free

Chilly Naan

$4

peanut free

Cumin Rice

$5

peanut free

Raita

$3

peanut free
Desserts
Classic Rice Pudding

Chilled melt-in-the-mouth dessert with nuts

$8

peanut free, gluten free

Kulfi

The traditional Indian ice-cream served on a bed of dessert noodles and garnished with nuts and rose syrup

$8

peanut free

Caramelized Jamun and Rabdi

Gulab jamun served with sweet, condensed-milk-based dish Rabdi, made by boiling milk on low heat for a long time

$8

peanut free
Non-Alcoholic Indian Beverages
Sweet or Salty Lassi

$4

Mango Lassi

$4

Darjeeling Chai Tea

$4

Madras Filter Coffee

$4

Sodas

$3